Test Section
Our Story
Teach for the Philippines is a for-purpose, non-stock, non-profit organization that works to provide all Filipino children with an inclusive, relevant, and excellent education. We enlist some of the country's most promising young leaders to teach for two years in public schools throughout the Philippines. Through their experiences in the classroom, Teach for the Philippines transforms our leaders into lifelong advocates for education equity.
Latest News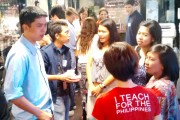 July 15, 2014
On June 27, 2014, Friday, Teach for the Philippines hosted Leave Your Mark, a mixer event attended by 85 individuals passionate about ending education inequity in the...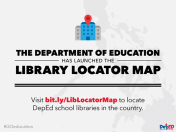 On Tuesday, June 24, 2014, the launch of the library locator took place at Makati Elementary School.
The library locator is a project initiated by the Library Hub...
Experiences

August 1, 2014
I signed up for the Civic Engagement Program (CEP) without a clear idea of what it was. I had a casual understanding of what Teach for the Philippines' goals and...
Our Champions
We remain grateful to the private individuals, organizations, and corporations who believe in Teach for the Philippines and make our work possible by sharing their expertise, time, and generous financial support.
TeachForThePH