The final stage of The Teach for the Philippines Fellowship is Alumni Pathways.  Our leaders commit to education equity beyond the 24-month Fellowship program, whether they remain in the classroom, move on to education administration, work in government or the corporate sector, or join a different social development path.
A key  part of the Alumni Pathways is Teach for the Philippines' Alumni Mentorship Program.  
Teach for the Philippines' Alumni Mentorship Program supports the transfer of valuable leadership knowledge through mentoring. This is an opportunity for second year Fellows to forge a meaningful relationship with a respected professional, who believes in developing young leaders as part of nation building.  The Teacher Fellows are responsible for actively engaging their mentors to further their learning and professional development. A mentor facilitates learning by asking thought-provoking questions and sharing invaluable career advice that help Teacher Fellows to reflect on their own experiences.
Teach for the Philippines is grateful to the mentors of our 2013 and 2014 Cohorts – mabuhay po kayong lahat!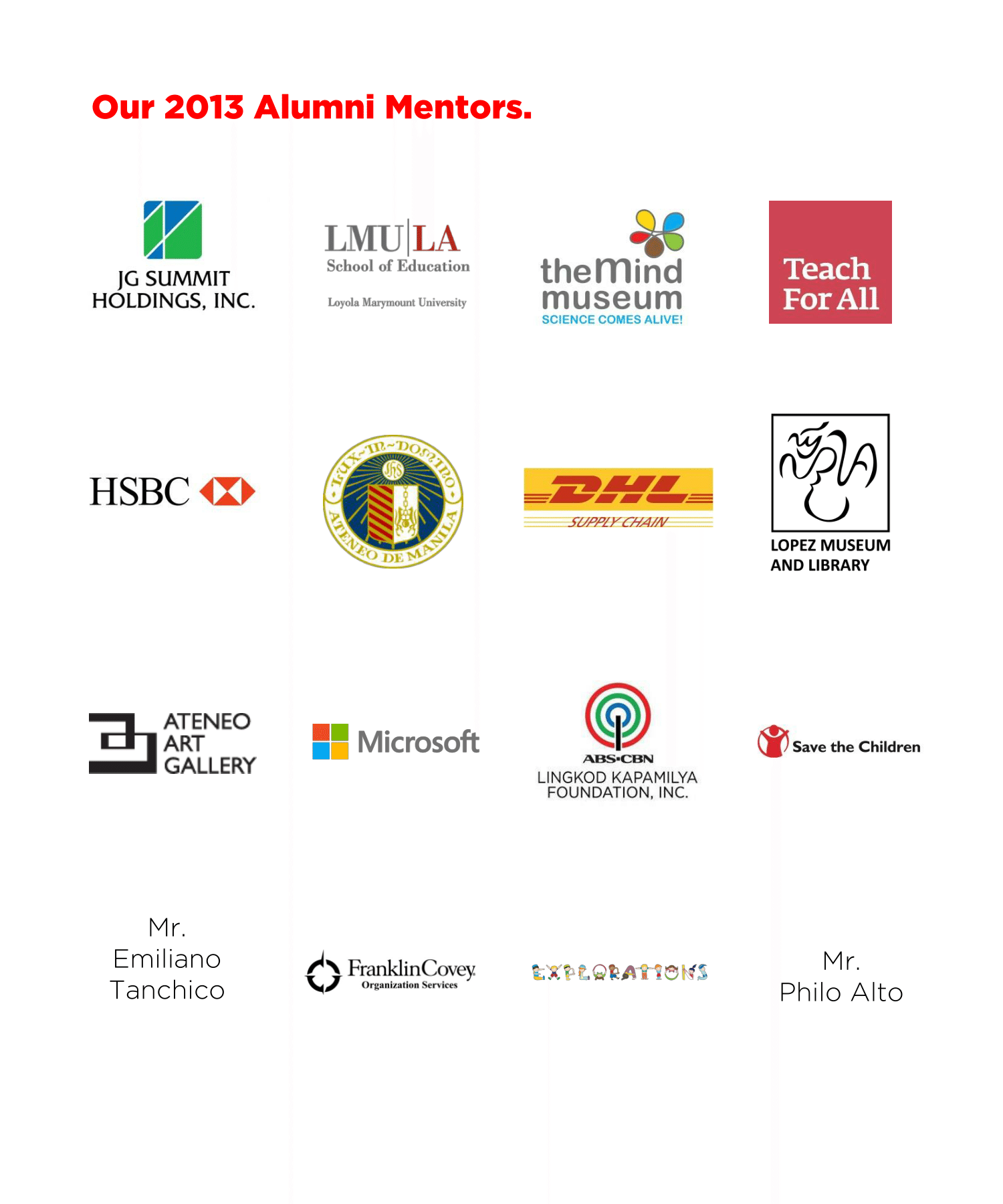 Our 2013 Alumni
Anna Gabrielle Alejo

Mary Alimasa

Myrtle Mae Almando

Daniel Philip Ang

Anvico Juner Avañez

Jerome Bactol

Jhon Hayden Bale

Shannen Agustine Barcelon

Ryan Anthony Bestre

Katherine Bonsato

Neil Joseph Capumpue

Ma. Theresa Carlos

Emalinda Victoria Castañeda

Adam Crayne

Gian Karlo Dapul

Rexan Dayao

Lesley Elaine De Leon

Julio Denosta

Janine Alyson Duenas

Adelaide Elpidama

Loreen Eslao

Carmina Regine Fernandez

John Carlo Fernando

Christine Michelle Fua

Mikee Garcia

Christophe Chuidian

Maci Norenz Illicito

Anne Brigitte Lim

Dominique Manahan

Joana Flora Marcial

Kit DG Pabiona

Noelle Cherie Pabiton

Regina Grace Pasion

Mary Kristian Rivera

Katrina Marie Roco

Ma. Sofia Santiago

Emiljohn Sentillas

Beatrice Tan

Marina Criselda Tanjutco

Ada Marie Tayao

Hebe Valerio

Ma. Veronica Vergara

Ma. Jessamine Verzosa

Delfin Villafuerte

Leah Villanueva

Markley Gil Villarin

Ivy Yasis

Angel Marie Ysik

Jose Miguel Zaballero
Our 2014 Alumni
Vita Jean Acosta                  

Arra Erika Aguilar

Kamille Ampong

Regyn Avena

Melissa Anne Balmaceda

Nikka Ylyssa Basconcillo

Bernie Bongat

Alvie Cabañez

Jerson Capuyan

Catherine Castanares

Shylynne Castillo

Christabel Corpus

Mark Kevin De Guia

Mara De Guzman                 

Ma. Guia Del Valle    

Danna Mae Dela Cruz

Sheila Erness Ele

Ann Clarice Fajardo

Mariebel Ferranculo

Nico Fos

Janel Gatdula

Kathryn Anne Hilario

Marc Lalas

Isiah Lazan

Katherine Anne Lim

Johnet Grace Lopez

Dave Victor Mariano

Ched Allen Martinez

Emerald Ocado

Trisha Marie Palaganas

Charmaine Pineda

Dionisio III Pobar

Jerlyn Rabaca

Lacey Ramos

Patricia Rivera

Andrea Requejo

Maria Angela Rosal

Renard Torrecampo

Jaime Gabriel Villanueva

Karleen Zambas